Kitchen Duct Extract Cleaning
A reliable kitchen duct extract cleaning service you can trust
When it comes to your kitchen ducts, don't take the risk – unkempt ducts are unhygienic, illegal and bad for business!
Lex Hygiene provides a first class kitchen duct cleaning service that ensures efficiency and most importantly certification to comply with current legislation.
Our workforce are knowledgable and continuously trained to ensure we always exceed our customers expectations. Well equipped with the latest technologies, we have the capabilities to offer a deep clean far beyond what the eye can see.
Why use Lex Hygiene?
The Process
Using our unique foam and brushing system, we are able to reach more than just "arm's length"*. Particular attention is paid to the area behind the grills "the plenum" as this is where grease build up materialises, being so close to the heat source, it is imperative it's cleaned to the highest standard.
Filters are removed, soaked in our own LEX Hygiene Duct Cleaner powerful cleaning solution, rinsed and replaced.
With our unique foam and brushing system, we are able to clean your duct work to an extremely high standard without having to install as many access panels. Where access panels are needed but not fitted to the ducting, out trained technicians will insert panels in the relevant places and will also install drain off valves for the foam to disperse if required.
*Whilst we do our upmost to reach all areas, LEX Hygiene can't guarantee access to all areas.
Certificate of Compliance and Post report
You will be issued with a Certificate of Compliance which can be given to your insurance company. This can also be used if Environmental Health Inspectors or Fire Risk assessors turn up. It can be used as evidence to show you've taken action to minimise fire risks within your building. You will also be issued with a post report – you can see this below.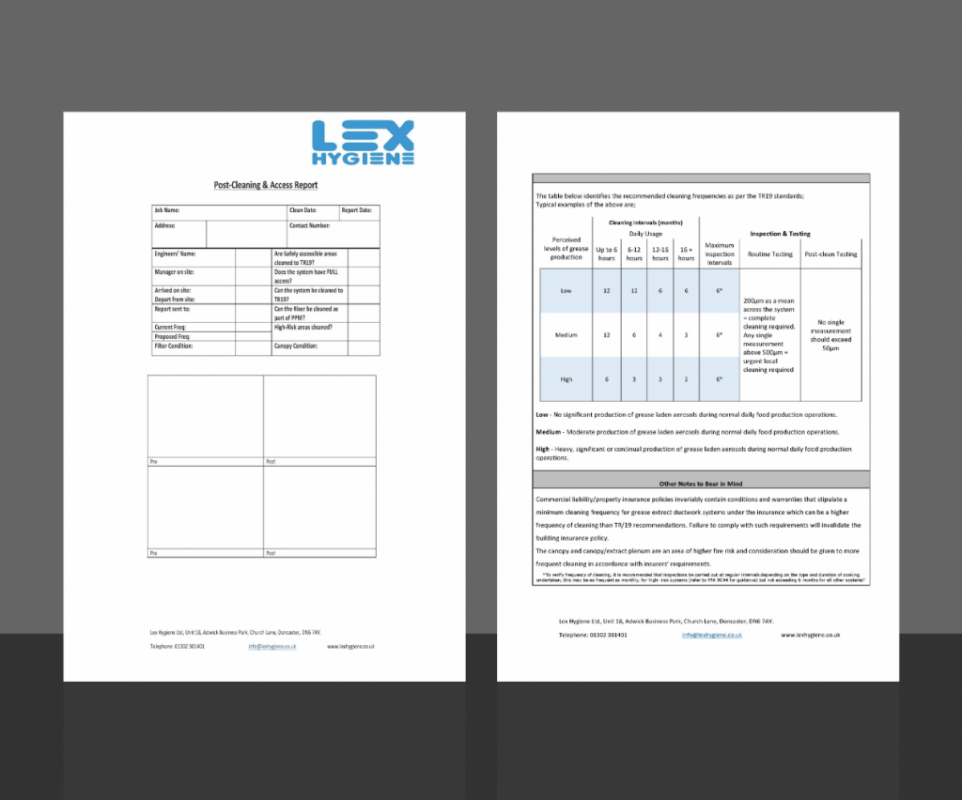 Duct Cleaning Times and Intervals
We work with you to undertake the cleaning at times that is convenient for you and your business needs – always with the aim of minimising disruption.
| USAGE | DAILY USAGE | CLEANING FREQUENCY |
| --- | --- | --- |
| Heavy Use | 12-16 hours per day | Every 3 months |
| Medium Use | 6 – 12 hours per day | Every 6 months |
| Light Use | 2 – 6 hours per day | Every 12 months |
If regular cleaning is not undertaken, fats, oily deposits and fibrous particles can accumulate in kitchen extract systems, reducing air flow efficiency and producing a warm greasy environment for bacteria and pests to breed.
Failure to ensure regular cleaning of kitchen grease extract systems can invalidate buildings insurance cover due to the risk of fire. We are aware of many cases where insurers have refused to pay out on millions of pounds worth of claims following fires where the insured has not complied with the warranties on their buildings insurance policies regarding regular cleaning of the grease extract systems.